About the College
Kharagpur
College
Kharagpur College was founded on 29 August (Monday) 1949 in the premises of the Silver Jubilee School at Kharagpur , Puratan Bazar . soon, thereafter, the college obtained a gift of nearly 40 bighas of land from Mrs. Saleha Khatoon, wife of late Nasir Ali Khan of Panchberia, Kharagpur and the construction of college building started under the dispersal scheme of the state Government on the 2nd day of July 1951. The functioning of the college then started in its own building at the present permanent site at Inda, Kharagpur.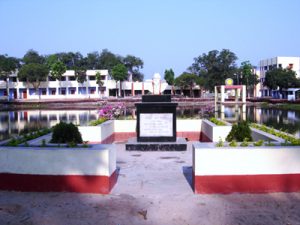 The college has developed into a vast academic institution of learning and stands singularly as one in a cosmopolitan ambience. Being one of the great institutions of importance in West Bengal, it plays a leading role in human resource power development amongst the colleges affiliated to the Vidyasagar University. This great seat of learning is devoted to the cause of providing quality education in the field of Arts, Science and Commerce. The teachers, students and other staff of the college are endeavoring their best to create an environment at this institution to build up a solid foundation of personalities through knowledge and perfection in the multifarious avenues of life. To the objective of producing professionals for job and resolute personalities for society, this institution is, by and large, sincere in maintaining the environment which can motivate self discipline, creativity and excellence. This institution has the promise of imparting education to student to remain keen on paying respect to profundity in innumerable movements taking place around us. The other objectives identified are
Education to inculcate spirit in the minds of students to feel proud of the great heritage of the country
Preparing students for self – dedication with reference to the cause of people of all communities
To spread the ideal of unity of the country amidst its diversity
To remain on guard against rise of hostile strength that threatens to jeopardise our goal & objectives
To maintain a natural alliance between the modern education and the mind of the country
Extension of education in both undergraduate & post graduate level through distance education & opening up of new courses of theoretical as well as vocational studies,
To maintain an environment so that every individual of this Institution can contribute towards maintaining or changing a conception conducive to the growth of this institution.